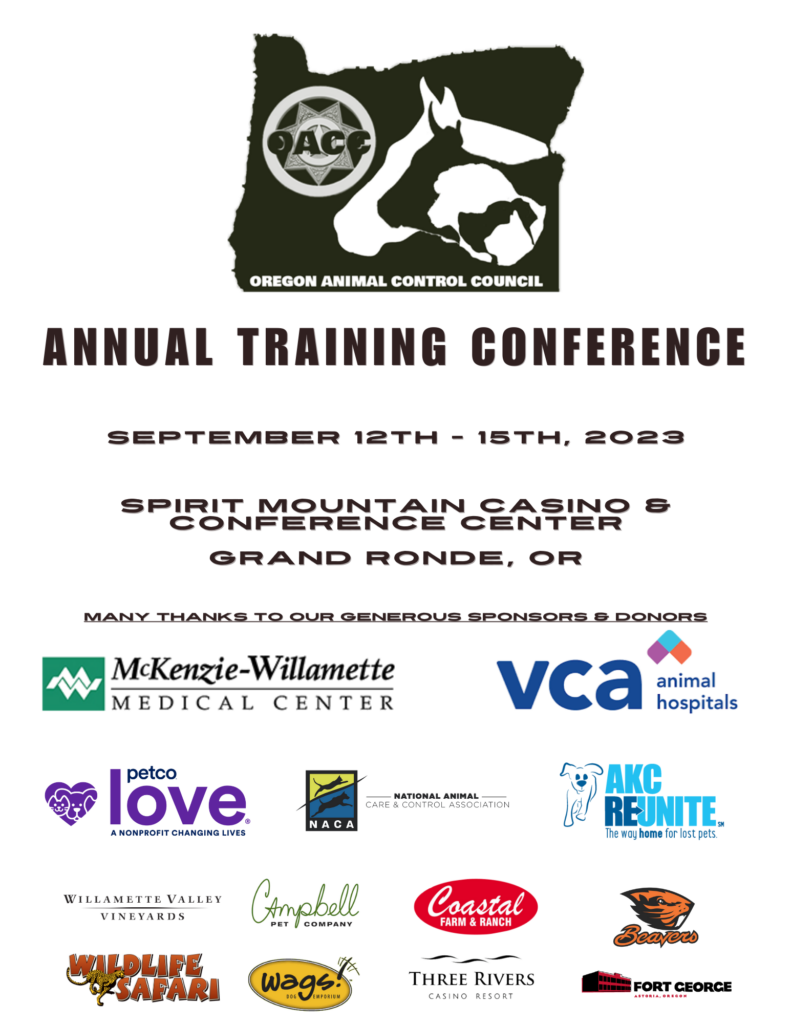 We have a tremendous lineup of both local and nationally recognized speakers and instructors for this year's conference along with plenty of opportunities to network amongst the professionals from around our great state.
We have worked hard since last years conference to ensure quality and necessary content and hope that all of our attendees can take this info back to their agencies and continue to advocate for all of the professions that fall under OACC.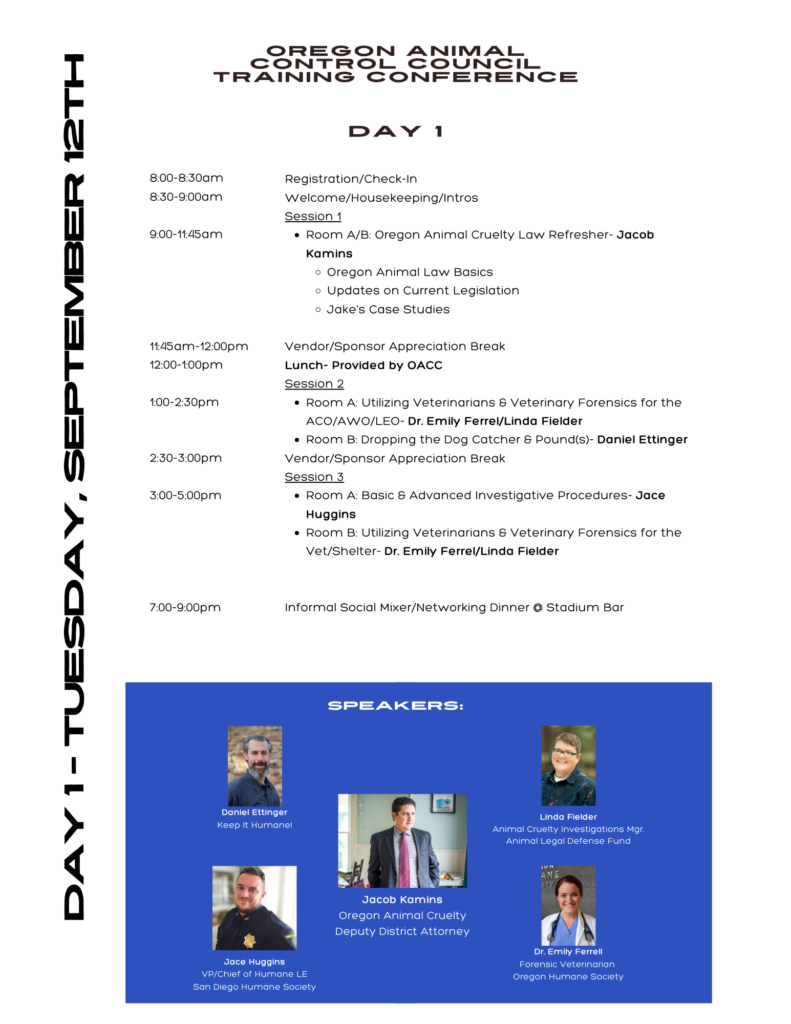 Our first session will rely heavily on one of OACC's most valuable assets, Jake Kamins, our state's Animal Cruelty Deputy District Attorney. Jake's passion for giving a voice to those who cannot speak for themselves, as well as his expertise on these topics and willingness to assist our states professionals in any way possible is something we are uniquely lucky to have. Please continue advocating to ensure Jake is able to keep his role here in Oregon under the Oregon DOJ.
Linda Fielder & Dr. Emily Ferrell will present in both rooms regarding the value of Veterinarians & Veterinary Forensics for both the field/enforcement side as well as within the shelter and veterinary services.
We have also brought in two highly qualified nationally-recognized instructors in Daniel Ettinger and Jace Huggins, who will present on both eliminating the stigmas around the Animal Control and Sheltering worlds, along with standardization of investigation techniques.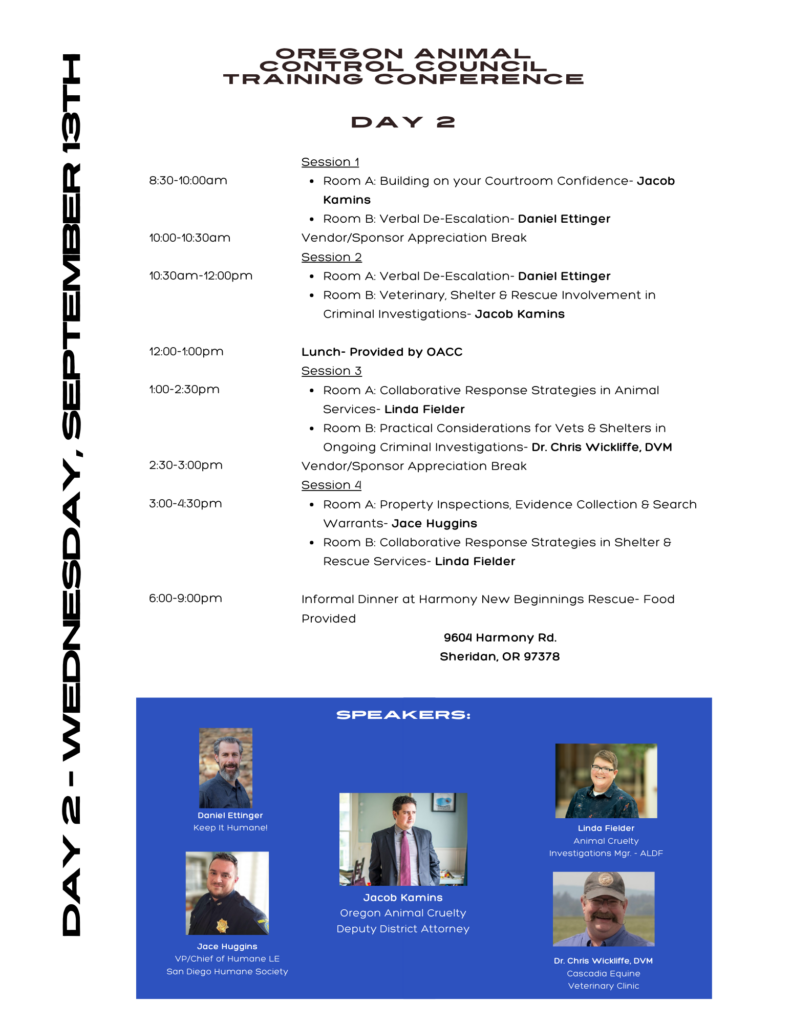 We will once again have Jake, Jace, Linda & Daniel present on multiple topics from ensuring you are ready to testify in court, which can overwhelm even the most educated professional, learning the key aspects of verbally deescalating subjects that we all encounter in our day-to-day work, to taking a collaborative approach and realizing how important building a good team among many disciplines can be.
We will also introduce Dr. Chris Wickliffe, who has operated Cascadia Equine Veterinary Clinic and has become an incredible asset statewide for his expertise in assisting Animal Control agencies with ongoing criminal investigations and the care for the animals involved in them.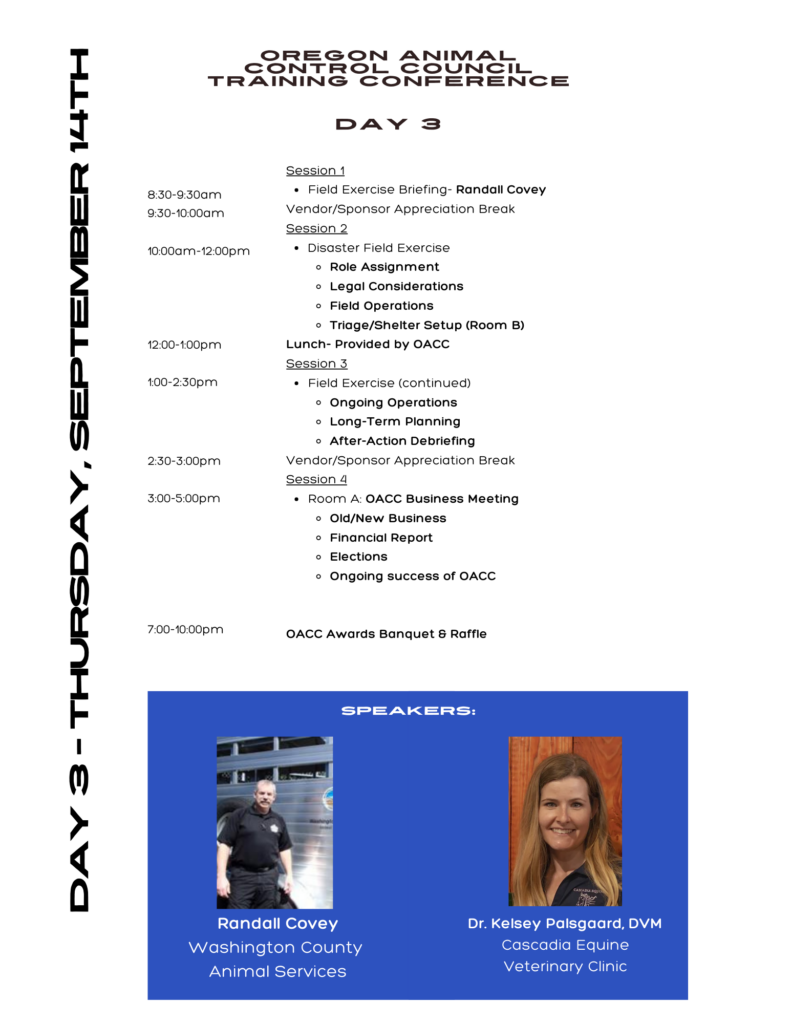 We are incredibly lucky to have such a powerhouse of experience in the world of animals in disasters in Randy Covey of Washington County Animal Services. Randy's work with HSUS as the Director of Disaster Services took him across the country where he assisted with multiple operations and seizures. He helped greatly expand the HSUS Disaster Program and helped develop the National Animal Rescue and Shelter Coalition (NARSC).
Randy will be joined by Dr. Kelsey Palsgaard of Cascadia Equine Veterinary Clinic, who earned a Bachelor of Science degree in Animal Science with an Equine Emphasis from University of California, Davis. She stayed at UC Davis for veterinary school and graduated with a Doctorate of Veterinary Medicine. While in vet school, Dr. Palsgaard held an active role in the Student Veterinary Emergency Response Team as well as the student AAEP chapter. She was the first to graduate from the "Train the Trainer" program and graduated with special veterinary emergency response training. She employed by the Veterinary Emergency Response Team (VERT) at UC Davis. She responded with VERT to the catastrophic Northern CA wildfires multiple years in a row.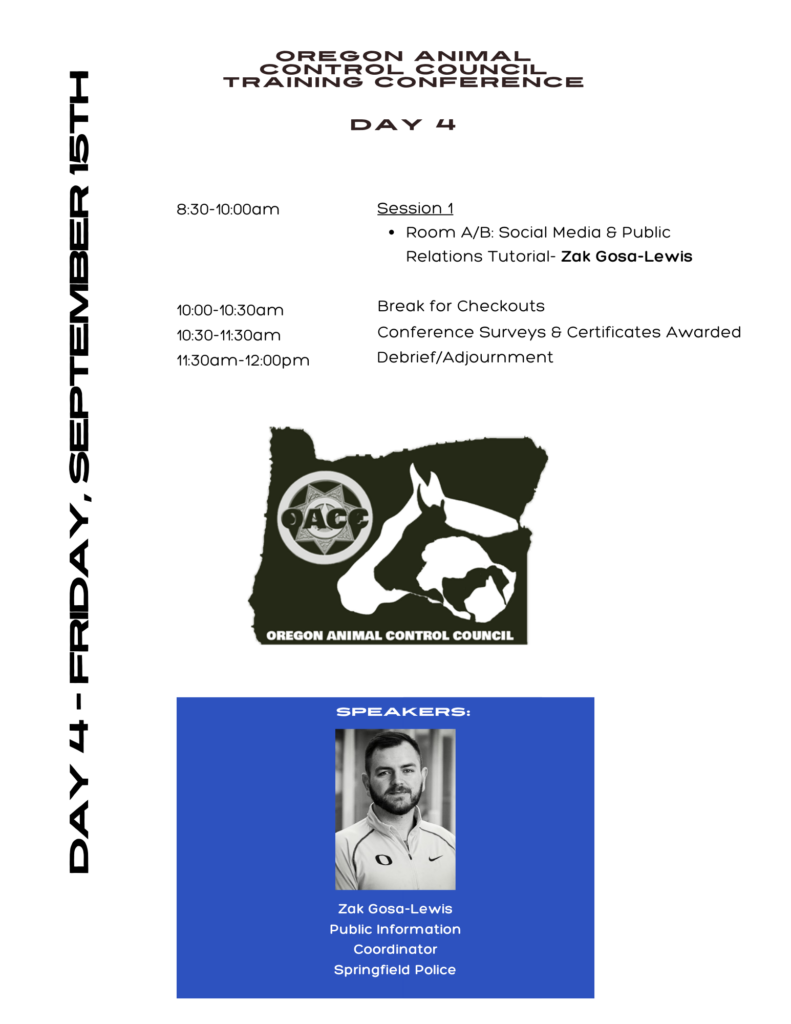 To round out the week, we will be welcoming Zak Gosa-Lewis, Public Information Coordinator for the Springfield Police Department, to provide an overview on the dos and donts of a successful social media and public relations presence. Zak has been at SPD since April of 2022, and was hired during a very tumultuous period for the department, when "branding" and positive engagement was much needed. Zak filled this role exceptionally well since his previous professional experience was working for the University of Oregon & Middle Tennessee State University's Fraternity & Sorority Life Programs, both programs that required specific skills.