The Oregon Animal Control Council was created in 1974 as a non-profit organization consisting of Animal Control and Animal Welfare agencies, Shelter Employees, Veterinarians, Rescue Entities, and all other related occupations from around the state of Oregon. The Animal Control Council supplies knowledge, experience and assistance to agencies (and the general public) who need support in reference to Animal Control. Our current membership consists of personnel from local law enforcement, animal control, federal agencies, humane societies, private rescues and more reaching throughout the entire state of Oregon.
Current ACO/AWO/Shelter Employment Opportunities in Oregon
Code of Ethics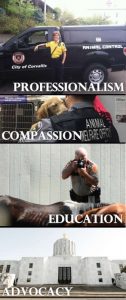 The Oregon Animal Control Council, as a professional organization made up of men and women dedicated to providing quality animal control services to the citizens of our respective communities across the State of Oregon, hereby establish the following Code of Ethics to guide us in the performance of our duties:

We recognize the authority of our office as a symbol of public faith, and accept that faith as a public trust, which demands integrity in all that we do.

We recognize the value of cooperation, and stand committed to work with other organizations and the public to achieve results that provide a common benefit to all.

We recognize the importance of respect in our dealings with all people, and shall demonstrate an unfailing commitment to the fair treatment of all individuals without regard to gender, religion, sexual orientation, culture, age, or race.

We recognize the necessity of high performance standards, and will strive to maintain a degree of excellence in the performance of our duties that ensures public confidence in the resolution of community animal control issues.

As an organization, we strive for excellence. As individuals, we pledge loyalty to the ideals of service to our communities. We recognize that the support gained in return fosters a common purpose of compatibility between the animals and citizens we serve.